The Lena Volunteer Fire Department was founded in 1909. The first Fire Chief was J.N. Netzer. Netzer's Mill on the corner of West Railroad Street and Main Street was the first fire station and served the community till 1946 when they moved to 117 E. Main Street (currently the Municipal board room & Police Department).A hand pumper was brought by train in 1920 from Battle Creek, Michigan. This pumper is now stored at the Lena Museum. The first Model T fire truck was purchased in 1927. In 1934 & 1952 other fire trucks was purchased to serve the needs of the village and in 1952 the Lena Volunteer Fire Department extended services to Towns of Spruce, Stiles, Lena and Little River.
Today the Lena Fire Department consists of 35 dedicated volunteers. The fire department is very active in the community. Their annual Firemen's Dinner is held the first Sunday in August every year to help raise funds for equipment /supplies/community involvement. They also hold an educational event in honor of Fire Prevention Week.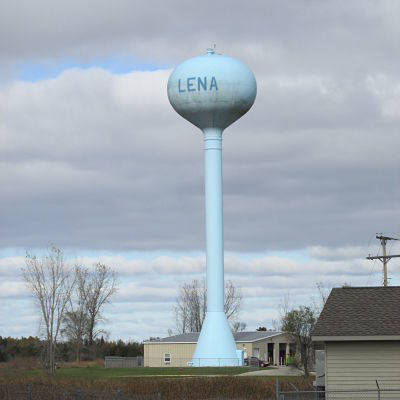 Electric & Gas
The Village of Lena is serviced by Wisconsin Public Service. Below is their contact information.
Wisconsin Public Service
Contact by Mail
Wisconsin Public Service
Attn: Customer Service
P.O. Box 19003
Green Bay, WI 54307-9003
Contact by Phone
Please call us immediately if you think you may have an electric emergency or natural gas leak.
Gas Emergencies:
Get out of the house immediately & call
800-450-7280
Electric Emergencies:
800-450-7240
Residential 24-Hour Customer Service:
800-450-7260
Business Solutions Center:
877-444-0888
Call Before You Dig:
800-242-8511
Telephone
Centurylink provides telephone/internet services to the Village of Lena. Contact information is listed below.
Centurylink
For your home: 866-540-8545
For your business: 866-251-6012
Website: http://www.centurylink.com
Internet
Astrea provides broadband services for the Village. Contact information as follows: Phone: 800-236-8434
Public Works
The Department of Public Works ensures the Village residents receive quality services and have access to safe, well-maintained recreational areas. Also the department strives not only to maintain the Village infrastructure, but to implement long-term improvements aimed at enhancing the quality of life for the residents of the community.Streets and sidewalks: The Department of Public Works maintains the streets within the Village limits. This includes street sweeping, snow removal and salting. Through a joint effort with Wisconsin Public Service and the Village the street lighting is maintain.